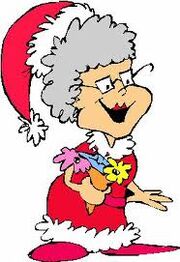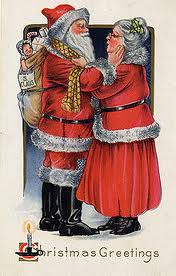 Mrs. Claus
is the wife of
Santa Claus
and a huge supporter of the Christmas spirit! She lives in the North Pole with all the
elves
 and helps Santa a lot.
Once Santa coems home Mrs.Clause has a big role in helping him recover from being so tried usually she'll make him hot chocolate and he will go to sleep for about 2 - 4 days then will take up and sleep a lot off and on Mrs.Clause helping him inbetween then they have a celebreation for new years eve, and chinese new year. and all the other new years around the world 
She makes presents, So they can go a bit faster.
Her name is Mary.
She doesn't have a name.
For some reason we can't seem to find out Mrs.Claus' name many people think it is mary, for now that is only a rumor.